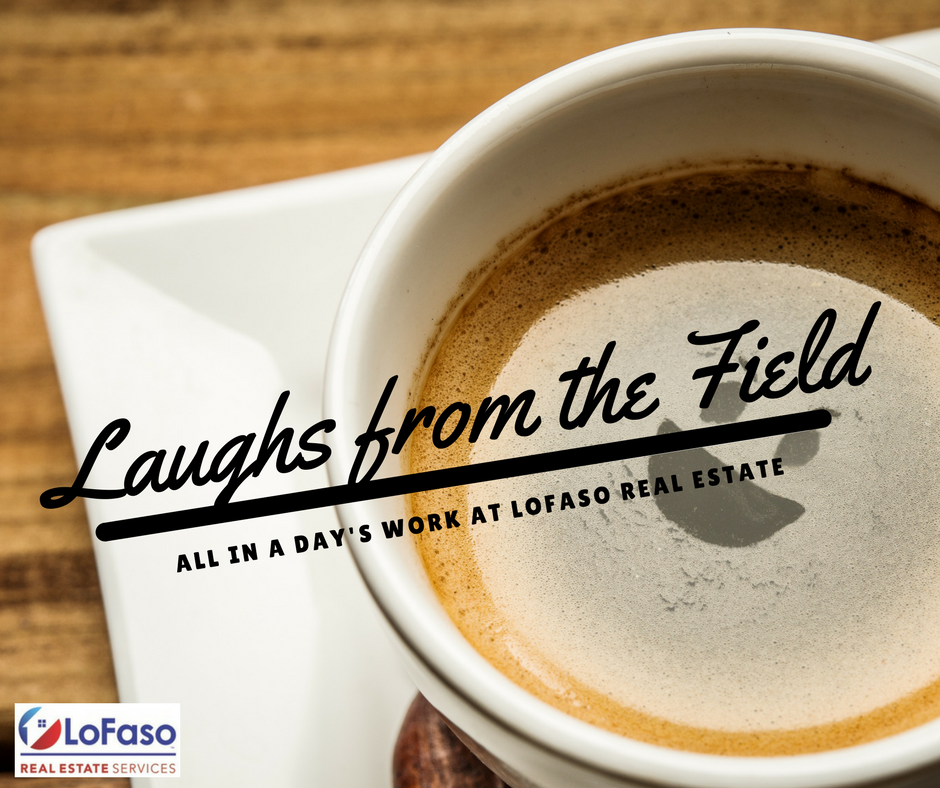 Laughs from the Field – All in a Day at LoFaso Real Estate
It's a beautiful thing when you love your job, and we certainly do! As Realtors we have the opportunity to work with a wide variety of people, see lots of different houses, and best of all, no two days are the same.
We are always in the office swapping funny stories of our day, and we'd like to share a few of the highlights with you, in our own words. You wouldn't believe the wacky things that happen to us!
Most Absurd Disclosure – Jessica
My clients wanted to see a house in Wadsworth a few years back, and when I called to set up the showing, the conversation went like this:
Listing Agent: You're more than welcome to show that property. It's a great house. But I have to tell you that it's the third house back on a shared driveway, and the first house on the driveway has a tiger.
Me: …….Excuse me? I must have heard you incorrectly.
Listing Agent: No, really, they own a tiger. It's in a big enclosure and they have all the legal permits, but you can see it from the driveway. Just thought you might like to know.
My clients were troopers and still wanted to see the house! We passed the enclosure but the tiger was not outside. It turned out to be an interesting house, but my clients had 2 small kids plus they wanted to raise chickens, so we decided that the location probably wasn't the best fit for them, needless to say!
Biggest Surprise – Sam
If you ever go to see a house with me, you'll notice that I always yell "LoFaso Real Estate Services" when I walk in the door. This is because I don't want to surprise anyone. It's happened quite a few times in the past. I've walked in on guys painting, kids messing around, and once….drumroll please…an old lady taking a bath! She didn't hear us come in, and when I opened the door to the master bath we got the surprise of a lifetime! Since then, I always announce myself!
Most Creative Leaky Basement Solution – Jessica
Last spring I was showing a house to some of my investors, and clearly the previous owner was a little "creative." When we ventured into the basement, it was obvious that the walls leaked in one of the rooms. His solution? Build a moat along the wall of the basement, and channel it into a drain the next room! There was literally a channel along the wall, and a little cut-out in the wall separating one room from the next for the water to run through. Everything else was carpeted!
Best Foyer Greeter – Jessica
I opened the door to a house in Parma, and was greeted with a life-size pirate in the foyer! Super cool, actually, and it fit with much of the pirate décor throughout the house!
Best First Meeting with a Client – Shelby
During my first month as a licensed agent, my brother Sam was out of town and asked me to show his brand new listing to some buyers. He strongly recommended that I take another, more seasoned agent with me, but I was sure I would be OK and didn't.
It was a super hot day, and I was all ready to go with a huge jug of water in the car…little did I know how much I would need it! I got to the house and totally hit it off on the right foot with the buyers. I invited them to look around, and a few minutes later I hear,
"Shelby!! The house is on fire!"
What?! I go running, and find that a bird's nest in the outside porch light had caught fire when we turned the porch light on! I ran to the kitchen sink to get water, but the house was vacant and the water was shut off! To make matters worse, it was out in the country and there were no nearby neighbors! Thinking quick on my feet, I ran to my car and grabbed my big jug of water – it saved the day!
After everything settled down, we had a really good laugh about the fact that I nearly burned down a house on my first ever showing! We laughed and laughed. We saw about 4 more houses that day and about 3 weeks later we found the perfect home that they live in today!
If you need Realtors who love what they do, you're in the right place! We are experienced, professional, and know how to laugh, too. Contact us at 330-220-4780 for all your real estate needs.