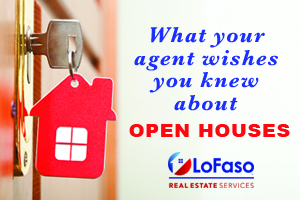 Open Houses. They're fun, they're a good way to spend an afternoon, and occasionally they're how you find the home of your dreams.
But when it comes to open houses, there are a few things your real estate agent wishes you knew:
They have the ability to lead to a situation where you're not represented in the transaction. If you don't tell your agent you're going to an open house and don't mention that you're working with an agent when you get there, your agent may not be able to represent you if you decide to purchase it. The agent who hosted the open house can validly argue that they are the "procuring cause" of the sale, which means they can write the offer with you and represent only the seller. You go unrepresented – meaning no agent is looking out for your best interest (i.e. a really bad idea).
Give them a heads up that you're going to some open houses. This enables your agent to contact the listing agent in advance and ensure that they will honor you as your agent's buyers. A quick email with written permission prevents a whole lot of trouble down the road.
At the very least, bring your agent's cards with you and present one to the listing agent as soon as you step through the door. This makes it clear from the get-go that you already have an agent representing you. It will also usually prevent the listing agent from trying to coax you to work with them.
Working exclusively with one buyer's agent is always a wise idea – you've got a professional on your side who's looking out for you and helping you navigate this tricky seller's market. Open houses can fit nicely into your home buying process, but just make sure you're taking the right steps beforehand.