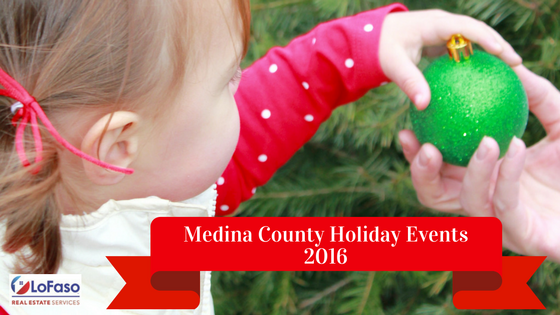 There's no place like home for the holidays, especially when home is Medina County, Ohio! Check out all of the amazing things to do with your family and friends this holiday season:
The Medina County Fair proudly presents its annual Drive-Thru Holiday Light Display at the fairgrounds. The light display will be open Friday, Saturday and Sunday evenings beginning November 25 through Christmas Day. It will also be open every evening the week before Christmas. Hours are 6 PM – 9 PM weekdays and Sundays and 6 – 10 PM on Friday and Saturday nights. Cost to drive through is $8 per car, $15 per 15 passenger vans and $50 for buses. Cash only, please.
720 West Smith Rd, Medina
Ohio Station Outlet Santa Express Train Rides, Lodi
Saturdays & Sundays, November 26-27 & December 3-4, 10-11, and 17-18, 2016 PLUS! December 21-24, 2016; 12pm-5pm
Ride the train to Santa's Place! After a group story, each child will have the opportunity for one-on-one time with Santa, including photos and a small treat. Bring your camera! For those who do not want to ride the train, Ohio Station offers walk-in meet and greets with Santa on the following dates: Saturdays, November 26-December 17 from 6pm-7pm, and Wednesday, December 21-Friday, December 23rd from 6pm-7pm.
Cost: $7 per person ages 2+, FREE for babies ages 1 and under

9911 Avon Lake Rd., Lodi, OH 44214
A Gingerbread Celebration, Brunswick
Saturdays & Sundays in December, Noon – 5:00 pm.
During this holiday season, celebrate by joining us for a gingerbread adventure throughout the nature center. Enjoy themed crafts and activities. All ages are welcome. No registration required. Free.
Susan Hambley Nature Center, 1473 Parschen Blvd, Brunswick, OH 44212
Friday, December 2, 6:30-9:00 pm
Grab your jammies and your blankies and come to the Rec Center on Friday, December 2 to enjoy The Polar Express, make a craft, sip some hot chocolate and visit with Santa. Free for MCRC members, $10 per family for non-members. Pre-registration required at the MCRC Front Desk.
Medina Rec Center, 855 Weymouth Rd, Medina
Christmas Craft Fair, Brunswick
Saturday, December 3, 10:00 am – 3:00 pm
The Brunswick Kiwanis 8th Annual Holiday Craft Show will be held at the Brunswick Rec Center on Saturday December 3rd from 10am – 3pm. Over 130 vendors with hand crafted goods. On site we will also have face painting and the Candy Cane Lane "One Stop Holiday Gift Shoppe" for your younger shoppers. Bring the kids to shop for the family. Fun for kids and adults alike. Free Admission.
Brunswick Rec Center, 3637 Center Rd, Brunswick


FREE Singing Angels Concert, Brunswick
Saturday, December 3, 6:30 pm
St. Ambrose Church is hosting a special Advent treat for you and your family: on Saturday, December 3, Cleveland's own Singing Angels will ring in the season with a free concert in our church! Enjoy your favorite sounds of Christmas performed by this amazing, world-renown chorus.
St. Ambrose Church, 929 Pearl Rd, Brunswick
St. Ambrose Breakfast with St. Nick, Brunswick
Sunday, December 4, 8 am – Noon
It's not just Santa…Saint Nick, Saint Ambrose, and their Friends want pictures, too! Bring your kids and grandkids for our yearly Breakfast with Saint Nick on Sunday, December 4. We'll be in Hilkert Hall from 8:00 am-12:00 pm. Tickets are only $6, and include breakfast, pictures, a craft, and more! RSVP to Helen at HLanzarotta@StAmbrose.us today!
St. Ambrose Church, 929 Pearl Rd, Brunswick
Sunday, December 4, 6:00-8:00 pm
The one mile walk around Brunswick Lake will feature lighting displays, choirs, face painting, photo opportunities with Santa and the Grinch, and other goodies. Free, but donations are accepted at the Brunswick Rec Center.
Medina's Annual Holiday Home Tour
Sunday, December 4, Noon to 5:00 pm
This year's tour features six exceptional homes from Medina's four historic neighborhoods, plus the Congregational Church in Medina's Historic District and a peek at the restoration in progress at the Medina Engine House.
Tickets are $15 and available online and in Medina at: Miss Molly's Tea Room, Cool Beans Coffee House, Boyert's Greenhouse, Antiquation, Theorem, A. I. Root Co. Tickets can also be purchased upon arrival the day of the event. For additional information call: 330-461-3894
The tour begins at: Medina Church of Christ Congregational, 217 E. Liberty St. Medina Ohio 44256
Breakfast with Santa, Brunswick
Saturday, December 10, 9:30 am – 12:30 pm
Come Join Us at the Grand Opening of 1st Friends Learning Academy!
Enjoy a Pancake Breakfast, Pictures with Santa, Face Painting, Games and Art Activities, Build your own Gingerbread House, Dancing Elves and Holiday Music to get us in the Holiday Spirit.
Bring your family and friends to this free family event.
Admission is free but please RSVP on our facebook event (facebook.com/1friendslearning) or by emailing us.
1st Friends Learning Academy, 1930 Pearl Rd., Suite 5 (in rear), Brunswick, OH 44212
Messiah: Free Community Concert, Medina
Saturday, December 10, 7:30-9:00 pm
55 voices, with orchestra, will fill the sanctuary with the joyous and moving Christmas selections, Hallelujah Chorus, and The Amen from Handel's Messiah as Harvest Church presents a free concert as a gift to the community.
Harvest Presbyterian Church, 1095 E. Reagan Parkway, Medina
Saturday, December 10, 7:00-9:00 pm
Sunday, December 11, 2:00-4:00 pm
Northeast Ohio Dance presents the annual production of "The Nutcracker" This non-profit youth ballet performs this holiday tradition, Saturday December 10, 2016 at 7 pm, and Sunday December 11, 2016 at 2 pm. Advanced tickets sales are at 124 College Street for $13 until December 9, 2016. Youth groups (15 or more) and senior tickets available for $6. Tickets are available at the door for $15. All seats are reserved.
O.J. Work Auditorium, 151 S. Main Street, Wadsworth.
Christmas in the Valley, Valley City
Saturday, December 10, 6:00 pm
Sunday, December 11, 1:00-5:00 pm
Christmas in the Valley is a delightful afternoon enjoying the small charm town of Valley City. Do your holiday shopping, visit with Santa, find venues of entertainment, local business open house specials, refreshments, carriage rides and bring the family for a holiday scene photo. Watch Santa parade through town at 1:30pm making his way to The Depot Museum where he listens to children's Christmas wishes. Don't forget to bring your camera!
Downtown Valley City, crossroads Rt. 252 and Rt. 303
Friday, December 16th, 7:00-9:00 pm
Now in its 20th season, Tomáseen Foley's A Celtic Christmas recreates the joy and innocence of a night before Christmas in a remote farmhouse in the parish of Teampall an Ghleanntáin in the west of Ireland – when the neighboring families gather around the fire to grace the wintry night with the haunting melodies of traditional Irish Christmas carols, to raise the rafters with the joy of their music and to knock sparks off the flagstone floor with traditional dances, and to fill the night with the laughter of their stories.
Medina Performing Arts Center, 851 Weymouth Rd.
Tickets can be purchased here: http://www.brianbigleymusic.com/
Saturday, December 17th, 6:45 pm.
Bring your family and friends and relive the night when Heaven and earth collided and God gave us His most precious Son. Complete with student actors and live animals, our Living Nativity is a wonderful family event. (And make sure to stay afterwards for a chili bar in Hilkert Hall.)
St. Ambrose Church, 929 Pearl Rd, Brunswick